70B Pro Tools 110 - Start Here
From MusicTechWiki
Welcome to the 70B Pro Tools Class
Hi, my name is Bruce Tambling and I am the Co-Director of Music Technology at Foothill College.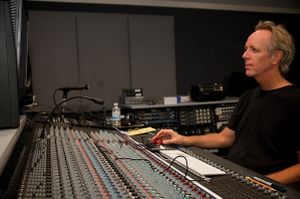 Here are a few things about me. I am an award winning musician, producer, audio engineer, composer, video editor, entrepreneur, web developer and teacher with many years of professional experience in the content creation industry. I have performed internationally on drums, percussion and keyboards in many genres including jazz, classical, rock, funk, electronic and world music. Audio engineering and production credits include hundreds of albums for major record labels featuring: Motown, Windham Hill, Sony, BMG, Atlantic, Tommy Boy, Warner Brothers. Dialog editor credits include: Jeff Bezos, Quincy Jones, Sally Fields, Jack Welsh, Bill Gates and President Jimmy Carter.
I have also composed original music soundtracks for many feature films, documentaries, video games, commercials and TV shows including: 20th Century Fox, New World Pictures, PBS, CNN, NBC, HBO, NASA, Apple Computer, Nissan, and BMW. Currently, I am the Co-Director of Music Technology at Foothill College, and I continue to actively engineer and produce music while owning and operating one of the top recording studio facilities in the San Francisco Bay Area.
"If it sounds good... it is good" ...so let's get started!
-Bruce Tambling
support@brucetambling.com

458A Reynolds Circle
San Jose, California 95112
408-313-9006
Don't Get Dropped!
The State of California requires that all students show some evidence of participating in class by the end of Week 2
The easiest way to do this is to simply sign the Census in Canvas
Students that do NOT show any participation in Canvas by the end of Week 2 will be DROPPED!
Read the Syllabus
The course syllabus will provide you with the course schedule, course objectives, explanations of assignments and assessments, grading policies, and instructor contact information. Please read it carefully. You should have a deep familiarity with the schedule and process of the course.
Getting to Know Canvas
If you're not familiar with Canvas you will want to review the Canvas Student Orientation. If you need help with Canvas go to Getting Canvas Help for assistance.
Canvas Assignment Schedule Google Sheet
This Google Sheet provides a top level birds eye view of ALL the Canvas Pages in this class. This is more for instructors and admins, but some students might appreciate an additional way to quickly view the class content. It is NOT required for students to use this Google Sheet.
Getting Prepared for the Class
I know you are excited and ready to start class. These are a few of the required items so you can start making your checklist. The full list along with suggestions and recommendations on where to obtain software and equipment can be found in the class Syllabus or on the class Resources Page. Although most of the online content in this class can be accessed with mobile devices, some of the content and apps require a desktop or laptop computer.
Computer Hardware
Every Music Technology student should have a personal computer!

A laptop is more versatile than a desktop computer

Mac or Windows Operating System
Get the fastest processor you can afford
Get as much RAM as you can afford (at least 16GB - 32GB)
Get the largest internal SSD (solid state drive) you can afford
Refer to Avid Pro Tools System Requirements for additional information

This info from Avid on computer system requirements is helpful for all DAWs
External Storage
External Drive

For audio and video media files
500GB or 1TB SSD is fine
It's best to NOT store audio-video media files on your internal system drive
Required Website Accounts
MusicTechWiki Account - If you don't already have one, instructions on how to obtain an account is located in this week's assignments.
Google Account - We use Google Docs, Spreadsheets and Calendars in our Music Tech classes
LinkedIn Learning subscription

Needed to watch LinkedIn video content
These videos are also available for free at Lynda.com
Required Software
For Avid Pro Tools Certification classes, Pro Tools software is required
For all other Music Technology classes, student may choose any DAW (Digital Audio Workstation)

Including Pro Tools, Logic, Ableton Love, FL Studio, Cubase, Digital Performer, Reaper, GarageBand etc.

Screen Capture Software
Questions, Office Hours, Support, Help
There are lots of ways to get help with the course work of this class listed on the Resources Page. I respond to emails sent to support@brucetambling.com within 2 business days, and often on the same day sent. Please AVOID using Canvas Messaging.
Office Hours
On Campus Office Hours
Virtual Office Hours 7 days a week - 1PM to 10PM (Available by Phone or Zoom - Schedule an Appointment)
Support Channel (Preferred)
This system creates a support ticket to insure I can resolve your issues and requests.
Click the NEXT button below to get started.