Directions to FH Music Tech Campus
From MusicTechWiki
Foothill College
12345 El Monte Road
Los Altos Hills, CA 94022-4599
For Full Campus Map click Here!
Directions to Foothill College
Foothill College is located located just off of the 280 freeway in Los Altos Hills, California, about 20 minutes north of San Jose and 40 minutes south of San Francisco.
From Interstate 280
Exit El Monte Road;
Travel west to campus entrance

From U.S. Route 101
Exit San Antonio Road;
Turn left on Foothill Expressway;
Turn right on El Monte Road;
Travel west to campus entrance.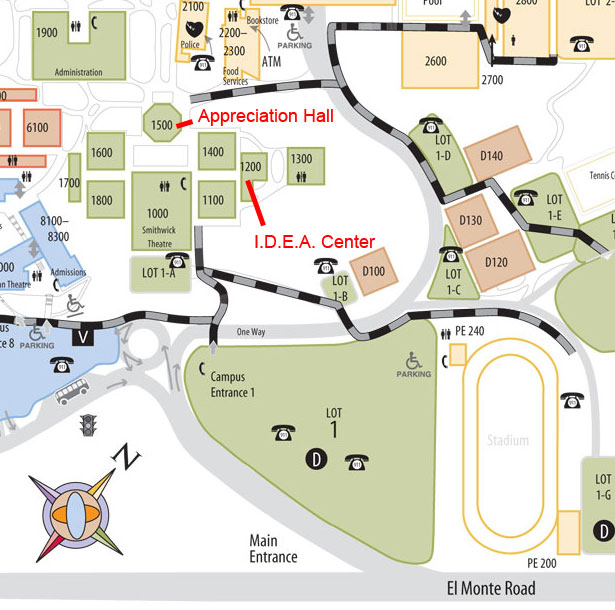 Directions to Music Buildings
From El Monte Rd., turn right into the Main Entrance.
Stay right and pull into the first parking lot on the right side. This is Lot 1.
You need to pay to park in any lot on campus. You will see Yellow permit dispensers that accept $1 bills or coins. Buy a permit and place it visibly on your dashboard.
Walk across the road and head up the hill. You will pass a sign that reads "Fine Arts and Communication."
Building 1100
Building 1100 is the first building on the right once you get up the stairs.
IDEA Center
To get to the IDEA Center, walk past the first building on your right (1100 building) and make a right turn. You will be facing the IDEA Center.
Appreciation Hall
To get to Appreciation Hall, walk past the building on your left. You will enter a small quad. The octagonal building is Appreciation Hall.
Fine Arts Division Office
Go past the Theater (you can't miss it), take a left and walk straight to the Fine Arts Division Office.
A full campus map is also available.